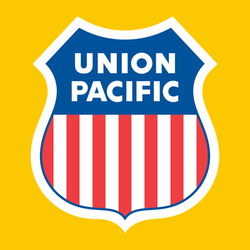 Union Pacific Railroad
Train Crew
La Grande, OR
Accepting applications for: Hinkle (OR), La Grande (OR), Spokane (OR). Please note that you may be asked to work in any of these locations once you are hired and trained.
When someone works on Train Crew, they are working at the heart of our railroad. Train Crew employees are accountable for serving our customers by providing the safe, timely, and on-plan movement of freight trains! In this beginning position, a person will start as a Switch-person or Brake-person, working as on-the-ground traffic control. No previous railroad experience is needed; we provide all the essential training!
These jobs lead directly to becoming a Conductor and/or a Locomotive Engineer, where employees have the rare opportunity to work on board a moving locomotive. A newly hired Train Crew trainee can expect to earn about $52,000 in their first year. Advancement to a Conductor or Locomotive Engineer has earning potential up to $88,000 a year or more. We are powered by our people, will you join our team?
Accountabilities
Ensure safe, timely train operation and movement between various shop locations, service tracks and switching areas
Inspect the conditions and operations of equipment and machines, analyzing and troubleshooting problems to find solutions, and making adjustments as needed
Perform various tasks to include: removing, replacing and carrying couplers/knuckles; aligning drawbars, coupling equipment and cars; operating locomotive equipment through a remote control device; applying and releasing hand brakes; riding rail cars; climbing onto equipment and sharing information clearly with co-workers and train dispatchers via radio
Check, observe, interpret and relay signals and placards to collect and communicate information
Prepare written documentation and materials as needed
Develop and maintain positive working relationships with coworkers, supervisors, contractors and/or customers and efficiently handle controversy
Ensure compliance with all railroad rules and regulations for safety, operations and Federal Railroad Administration (FRA)
Work efficiently and productively under stressful working conditions
Perform other duties as assigned
Qualifications
Required
Basic keyboarding skills
Valid driver's license
Ability to read and understand all instructions including operating and safety rules, bulletins, special instructions, and federal regulatory documents
Proficient verbal and written communication skills to deliver information to coworker(s) and supervisor(s)
Candidates for this position must pass a pre-employment test in English before being allowed to interview. The number of candidates who pass the test and will be granted an interview is based upon hiring needs. If you have taken this test and failed within the last six months, you will not be eligible to apply for this position.
Candidates must qualify on a Physical Ability Test (PAT) prior to employment.
Preferred
Experience working with, on, and around moving heavy equipment (Consider professional, personal, and volunteer experience)
Experience working outdoors in variable weather conditions (consider professional, personal, and volunteer experience)
Completed a railroad conductor training course or program
Physical Requirements
Must have normal color vision, be able to detect and interpret different visual color signals and displays, and determine the speed of moving objects at near or far distances
Have normal depth perception to judge the speed and distance of locomotives being moved in the service area
The ability to detect unusual sounds and smells during inspections and testing and to respond quickly
Able to push, pull, lift and carry objects weighing up to 87 lbs
Able to make frequent coordinated hand movements to grasp, place, or move objects
Have the capacity to walk (up to 5 miles a shift), climb, and maintain balance on railcars, locomotives, stairs, ladders, uneven terrain, moving equipment, rails and ballast in a safe manner (occasionally work at heights of 12 feet or more)
Able to perform physically strenuous work and occasionally bend, stoop, and kneel
Work Conditions
Typically required to report to your assigned work location within a prescribed timeframe (between 1-3 hours, depending on location)
Experience working 2nd and/or 3rd shifts
Agree to wear personal protective equipment such as safety glasses, safety boots, hard hats, and hearing protection where the company requires
Authorized to work in the United States without company sponsorship
Prepared to work at the location for which you are hired for at least 2 years
In the past 36 months, and in connection with the operating of a motor vehicle, you must not have had any of the following: (1) the suspension, revocation, cancellation, or denial of your driver's license in an incident involving drugs or alcohol; (2) your participation in diversion or probation, or a guilty plea, in a drug or alcohol-related driving incident; OR (3) you refused to take a drug or alcohol test
18 years of age or older
Willingness to practice safe work habits
To the extent required by federal law and/or collective bargaining agreement, membership to the respective labor union is required. The union agreement dictates the pay rate and cannot be individually negotiated. Monthly dues are the responsibility of the employee.
Background
On a post-offer basis, Union Pacific and or its subsidiaries will conduct an investigation into newly hired or transferred employees regarding their past employment, state and federal criminal history, military history, driving history, education, professional license or certification verification if job-related, Social Security number, prior drug history, and other job-related information. Individuals must pass a background investigation for employment.
64hvnjj7aftj
142991239